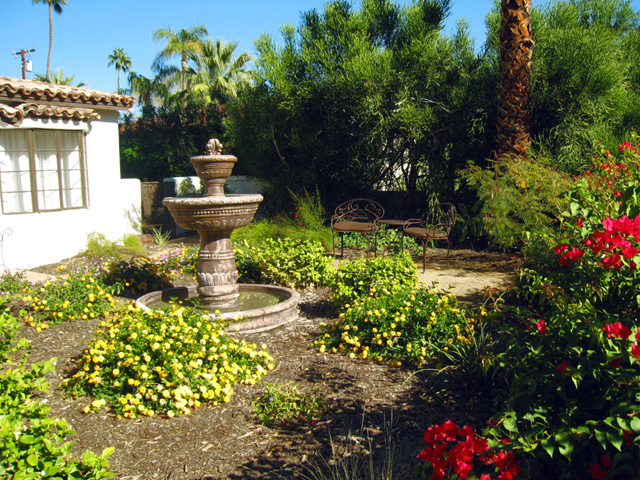 Residents of Palm Springs are big fans of the outdoors. Unfortunately, the prospect of Palm Springs landscape design can be a little daunting. Regardless of the size of your property, crafting and managing it into your personal slice of paradise is not as easy as one would think. Here is here we come in. As Palm Springs landscape design experts, Water Wise Landscape can handle all the hard work and leave you free to enjoy your property.
Even if you want to do everything on your own for now, there are a few beginner's tips we can provide. These Palm Springs landscape design tips, when followed to the letter, will make your life easier:
Palm Springs Landscape Design is Easier if You Take Advantage of Paving
If landscaping feels tedious to you, one way to minimize the work needed is paving. Whether you want a special focal point of just need a small pathway extension, creative use of pavers is a good solution. You just need to do some pre-planning. For example, if it is going to be a high traffic area, you can use thicker styles that can handle a lot of weight. Or if you are paving a poolside, you should go for slip resistant pavers.
Concrete is Dependable
Palm Spring landscape design will be a lot easier for beginners if you rely on concrete. It is strong, durable, and low maintenance. Lay some concrete flush against the home and you can create a seamless indoor-outdoor flow. You can even lead it straight to a special dining and BBQ grilling spot. Just make sure you check with your local council first, because they may have specific landscaping restrictions that will affect your choice of materials.
The Direction of Your Pavers or Decking Can Create an Illusion of Space
If you want your Palm Springs landscape design to look spacious but don't really have an abundance of space, you can be creative with your pavers and decking. For example, you can arrange them all horizontally in order to make the garden look wider.
Don't Let the Weather Ruin Your Project
Palm Springs residents have the benefit of an almost year-long summer, but what happens if you don't feel like enjoying the sun? You can design your landscape with certain features that give you more control over its use, regardless of the weather. For example, you can add a cover on the brazier and outdoor oven so that you can still use the garden even during winter or even if the sun is too hot.
Use Plants to Soften Hard Landscaping
Line some plants along the edges of a path, around a paver, or your decking. This adds much needed varity and color to your landscape. Since water is not in abundance in Palm Springs, you should choose plants that are native to the area. This makes them more likely to survive because they require less attention.
Leave Palm Springs Landscape Design to the Professionals
Landscaping is not an afternoon DIY project. At least, it's not as simple and you definitely need a lot of skill and commitment to pull through. If you don't feel confident enough, you can contact Water Wise Landscape and we will do all the hard work, leaving you free to enjoy your beautiful landscape when it is done.